See How a Stone Sealing and Seam Repair Made This Granite Countertop in Mesa, AZ, Shine Again
August 10, 2017
These homeowners have lived in this house in Mesa, AZ for several years now. They bought it from a couple at an excellent price. When they first walked into the house, the homeowner's wife immediately fell in love with the granite countertop in the kitchen. It reminded her of a documentary about natural stones, where she had learnt that granite is one of the hardest rocks on the planet. Said documentary showed that this stone is highly resistant to scratching and staining, which makes it perfect for kitchen countertops. However, as time went by, the two granite slabs of the countertop started to loosen, until the seam opened. The homeowners were worried about the unsightly appearance it had given the countertop, and they were worried that the open seam would cause bigger problems in the future. This is why they decided to contact a
stone sealing company in Mesa, AZ
.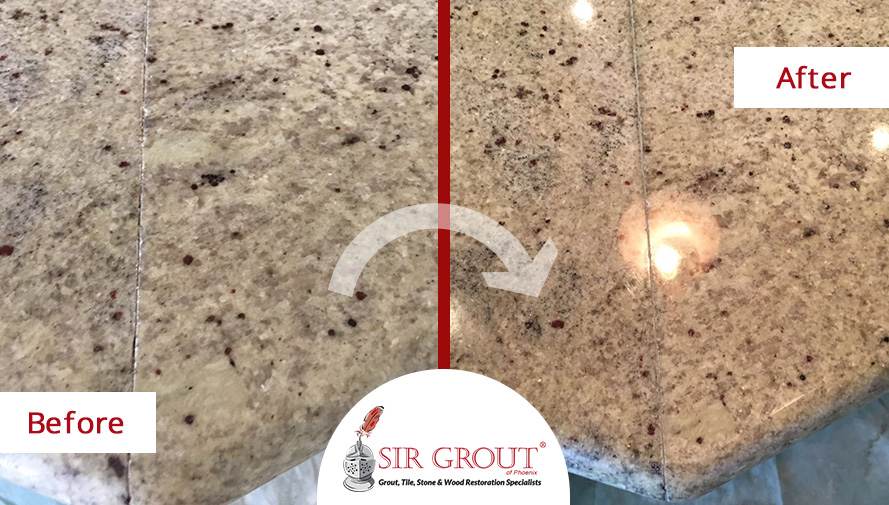 They found Sir Grout Phoenix's stone sealing service while browsing the web and requested a free quote on our website. When the day of the appointment came, our team of technicians went to the home to assess the situation and, after looking at the open seam, they suspected that this might have happened due to settling or sudden changes in temperature. They also noticed that the countertop had neither been properly sealed nor maintained.
The homeowners told our hard surface restoration specialists that they had put an oversized fruit bowl over the seam, trying to conceal the problem, but they knew everybody could notice. The homeowner's wife was specially stressed about it, since she thought that the crack in the seam affected the overall appearance of the kitchen. Our team told them they could solve the problem by applying new glue to the seam and, additionally, they would polish and seal the stone to revamp the appearance of the countertop and prevent further damage. After listening to this, the homeowners gave them immediate authorization to proceed to the task. So, the next day, the Sir Grout Phoenix team started to perform the seam repair and stone polishing service.
The first step was to remove the existing glue by grinding the seam to achieve an even and smooth finish. After that, the team put new glue between the stone slabs. When this part of the process was finished, they proceeded to polish the surface to achieve a glossy finish. The team finished the service by sealing the stone to prevent future damage.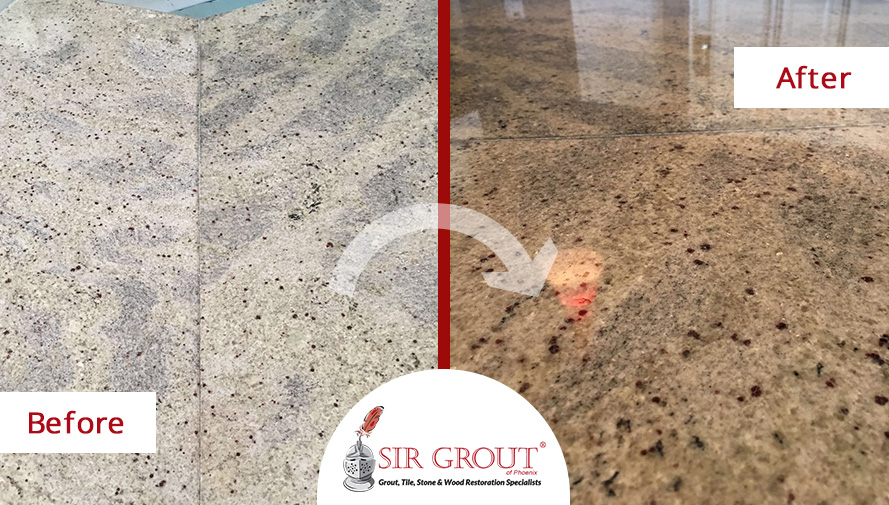 When the homeowners saw the results, they smiled and gladly thanked our team of hard surface restoration specialists. The homeowner's wife even said that the kitchen was now her favorite part of the house. Before they left, our team told the homeowners that they could preserve the glow that had been given to the countertop by preventing spills. If spills were to happen, they should immediately clean them up, as this would prevent stains. In addition to this, they recommended them to clean it periodically using a cleaner specifically made for granite, since this type of cleaner would maintain its shine and prevent damage to the stone.
If you are looking for hard surface restoration specialists in Mesa or surrounding areas, Sir Grout Phoenix offers you the best stone cleaning and sealing services. Our team is prepared to solve any countertop-related problems, such as deterioration or seam damage. Call us at
(480) 268-3257
or fill out the form below to contact us for a free evaluation today. You can also find us on
Facebook as Sir Grout Phoenix
, or follow us on
Twitter @SGPhoenixAZ
and
Instagram @SirGrout
.