The Best Wedding Gift: A Grout Cleaning Service to a Friend of Our Company's in Scottsdale, AZ
July 25, 2017
Marriage is a wonderful part of life, and among all the experiences that await new couples, owning a new home is one of the most important ones. Housekeeping as a couple is enjoyable for the shared time, but stressful for the pressing responsibilities and the investment it implies. These newlyweds, old friends of ours, were going through their own process of furnishing their new home, but they had one concern: their living room floor did not look as good as it should. They meant to fix this matter earlier, but they did not have time to get it done before they flew to their honeymoon destination. We figured that the best wedding present they could get from us was a
grout cleaning in Scottsdale
—their hometown.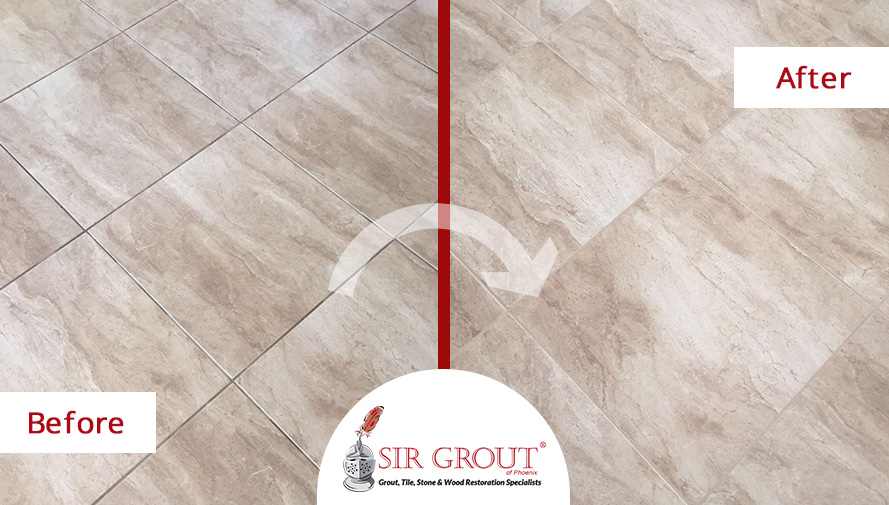 Chatting to the Ratzskins before their honeymoon trip, they mentioned that they were rather satisfied with their new place, except for the apparent neglect that previous owners had given the tile living room floor, which looked somewhat cloudy, not bright. The grout was dirty and discolored, giving the floor a shabby appearance that did not keep up with the rest of the house. The Ratzkins wanted to do something to solve this by themselves, and asked us to give them knowledge and advice. Why exactly does grout stain? Most grout is made of cementitious materials which are porous, so this texture facilitates the accumulation of grime. In addition, unchanged mop water, and spills, leave dirt on the grout; and excess detergent leaves residue. In summary, grout stains easily by nature, and it is necessary to be careful with cleaning methods and products, but this is not enough for optimal care. To make sure the floors are in top shape, the best is to have a cleaning and sealing service done to avoid or slow down the expected deterioration that the floors can suffer. Clearly, the Ratzskins realized that DIY solutions would not be enough, so we offered them a professional grout cleaning to solve the problem.
The procedures we had to apply consisted of tile and grout cleaning, grout ColorSealing, and to finish, tile sealing. We arranged all the details with the couple and we started our work at their residence as they set out for their destination honeymoon. The first thing we did was clean the tiles and the grout with a high-speed scrubber. This machine is gentle, but effective in removing the grime on surfaces. Fortunately, we did not come across any stubborn spots, so the use of a vapor steam machine was not necessary. Next, to seal the grout, we used our proprietary product, ColorSeal. ColorSealing gives the grout a clean appearance and protects it against spills and stains, while giving it any color that the client desires. For this floor, we chose a light color that matched the tile. Finally, we proceeded to seal the floor with our water-based, non-toxic, stain-proof floor sealant, TileArmor, which makes the floor easier to clean, as it repels grime. As a recommendation for homeowners in general, we can say with certainty that sealing tile floors is a worthwhile investment for all the advantages it has: improved appearance, long-lasting protection, and less effort spent when cleaning.
After this process, the Ratzkins' residence was flawless; this service was the final push their home needed to be completely ready to stage their new life together. When they came back and saw our work, they couldn't be more thrilled and grateful. They also promised to apply some care recommendations to maximize the life of the grout cleaning service, such as using appropriate neutral cleaners, sweeping, and vacuuming.
Newlyweds and new owners looking to perfect their home before moving in can count on Sir Grout to assist them with quality services, provided by our highly professional technicians. We are ready to help you renew your hard surfaces with our extensive knowledge and proved experience. Call us at
(480) 268-3257
, fill in the form that you'll find on this website to get a free in-home consultation, or follow us on our social media sites on
Facebook Sir Grout Phoenix
, on
Twitter @SGPhoenixAZ
, and
Instagram @SirGrout
. Do not forget to subscribe to our
newsletter
!