This Dull Slate Floor in Scottsdale Had Its Shine and Colors Revived with a Stone Sealing Service
September 09, 2016
Buying a new home is a big decision that can be stressful, but it is also a very satisfying experience. We recently met a homeowner that was ready to make the investment and get a fresh start in a new home. After many months searching for the right house, she finally found one that she loved. However, there was one feature that she didn't like about her new home – it had a lovely slate floor, but she did not like the dull, natural finish of the stone. She couldn't afford replacing the stone, so she was determined to find a local
Scottsdale stone sealing
service that could update and transform its appearance. She turned to the internet and quickly found Sir Grout Phoenix in the top results. She decided to contact us based on the excellent reviews and testimonials she saw on our website.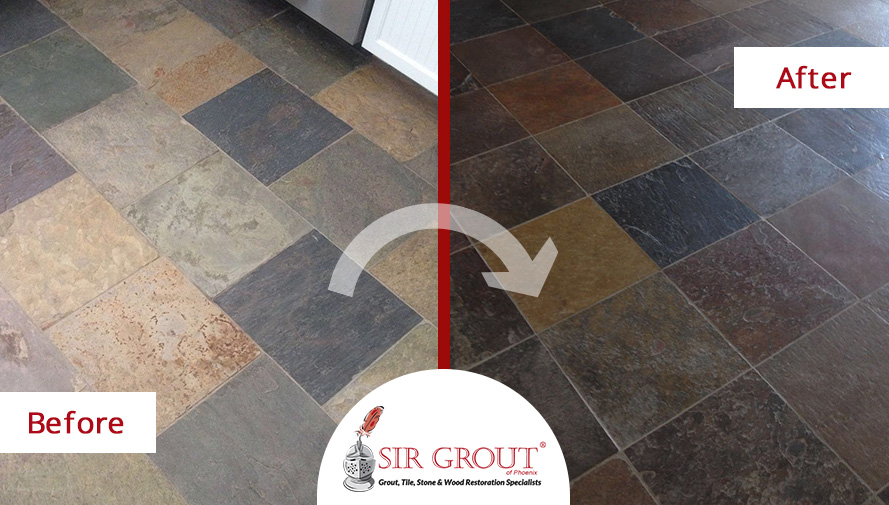 Slate tends to become dull over time, especially when it's left unsealed. This, of course, leaves the stone unprotected and exposed to dirt, stains, scratches, and foot-traffic, all of which can affect the appearance of the stone. Since slate is porous, dirt, stains, and water can easily permeate the surface if the stone is not protected, affecting its natural colors.
Upon the initial inspection, our team of specialists realized that the stone had lost its shine, possibly due to improper maintenance by the previous homeowner. They explained to the homeowner that the floor had potential, but it needed a little work. They also mentioned that slate is naturally very durable, but that it can last even longer and look a million times better with a high quality sealer. Sealing the stone would not only give the slate floor a lovely shine but would also revive its colors. The homeowner was happy to hear this, since it was exactly what she had in mind. So, our team agreed on a date with the homeowner to return and revive the slate floor.
When the day of the job arrived, our team was ready to get to work. The first step was to deeply clean the slate and grout with a non-toxic, stone-safe cleaner, using a high-speed vertical scrubber. Then, the team used vapor steam cleaning to make sure the floor looked impeccable. After this simple procedure, the floor drastically improved, but the best was yet to come. Our team applied a water-based, topical sealer that brought out the deep colors of the stone, while giving it a beautiful shine and protecting the stone against stains, dirt, and other contaminants.
The homeowner was overjoyed. She said the refreshed floor made the entire home look updated. She also loved that the colors of the floor looked vibrant and that it had a lovely shine. The homeowner thanked the team for their flawless work and promised to call again if she needed any hard surface restoration services. Our team was proud to have accomplished another amazing job.
Slate floors are a wonderful choice for any home, and the best way to keep them looking beautiful in the long run is by properly sealing them. Furthermore, it is essential to reseal stone floors every year. This will ensure that your floor stays protected and will also make cleaning much easier, since it will help keep contaminants at bay.
Has your slate floor lost its color or shine? A stone sealing service can help you revive your slate floor's natural appeal. At Sir Grout Phoenix, our highly trained team of professionals is willing to help you bring back the beauty of your natural stone surfaces. If you live in Scottsdale or surrounding areas, don't hesitate to contact us for a free quote by calling
(480) 268-3257
. To learn more about our services, like our page on
Facebook at Sir Grout of Phoenix
, and follow us on
Twitter @SGPhoenixAZ
and
Instagram @SirGrout
. You can also subscribe to our
newsletter
. We look forward to serving you!