Sir Grout of Scottsdale Earns Above and Beyond Award for Consistently Exceeding Expectations
Sir Grout announces Sir Grout of Scottsdale to be this year's winner of its prestigious "Above and Beyond" award.
Scottsdale, AZ - (PRWEB - March 03, 2015) - Every year, Sir Grout holds an annual meeting to train its employees, notify its franchises of any updates within the company and industry, and to award the franchises for their achievements in the past year. At this year's meeting, Sir Grout of Scottsdale was proud to be recognized with the "Above and Beyond" award: an honor symbolizing the company's ability to consistently surpass the desires of every customer. Sir Grout's personal account of this annual
convention of tile and grout professionals
, can be found on its blog.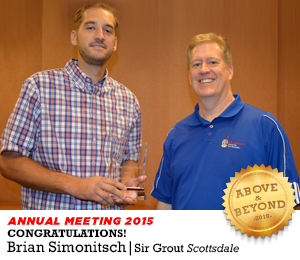 Sir Grout of Scottsdale's "Above and Beyond" award victory is an accomplishment attributed to its owner: Brian Simonitsch. Simonitsch is known for going above and beyond in regards to both his customers and his employees. Its customers prove this to be true by frequently providing five-star ratings and stellar reviews. As an example, past customer Janice A., had been seeking the best
Scottsdale grout cleaning company
and was pleased with the results she received, stating, "My tile and grout needed a lot of help and its process of cleaning and re-coloring the grout exceeded my expectations."
Being able to provide such satisfaction is a result of Simonitsch going the extra mile for his employees. This is evidenced by an important part of each morning routine at Sir Grout of Scottsdale being gathering together for a group huddle. According to Simonitsch, "I believe it's really important to unite everyone and get them fired up for the day ahead. We're a team that's passionate about what we do, but it's helpful to remind everyone of that on a daily basis. Focusing on teamwork is critical to our success because everyone has strengths in different areas, so when working as a team we have no weak spots: a fact that pleases our customers."
Simonitsch's attitude has resulted in him and his franchise being honored with more than just the "Above and Beyond" award. For instance, Simonitsch was named "Grout Man of the Year" last year and this year the company was recognized by Angie's List with the Super Service Award for its devotion to its customers. However, even after having won these awards, Simonitsch is yet to be satisfied, which is why he continuously sets the company's sights even higher.
To get in touch with Sir Grout of Scottsdale, call
(480) 268-3257
or go online to
www.sirgroutphoenix.com
to schedule an appointment or request a free in-home estimate.