Welcome to the Soap Scum Removal category for the Sir Grout Phoenix Blog. Here you'll find blog posts related to soap scum removal that we've performed on stone and tile surfaces. See the amazing transformations with the included before and after pictures. Feel free to share and leave your comments.
Published October 27, 2021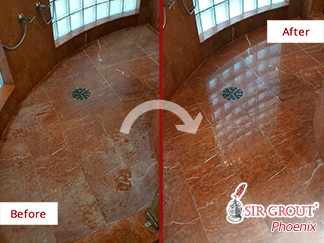 Our Gilbert Stone Cleaning Crew Makes This Shower Go Through the Most Impressive Transformation
A Gilbert homeowner felt out of her depth when standard cleaning products made no progress removing the soap scum from her stone shower. She contacted our specialists, and we brought the best stone cleaning services to her home.
READ MORE