Welcome to the Limestone category for the Sir Grout Phoenix Blog. Here you'll find blog posts related to limestone surfaces that we've restored. See the amazing transformations with the included before and after pictures. Feel free to share and leave your comments.
Published January 30, 2018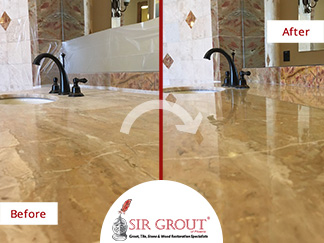 From Dull to Shiny: This Vanity Top Was Revamped after a Stone Honing and Polishing Service in Scottsdale, AZ
Stone is the perfect combination of beauty, elegance, and durability. Since ancient times, people have turned to natural stone. Today, it is still one of the most popular options when it comes to adding modern yet classic décor to a house.
READ MORE