Welcome to the Floors category for the Sir Grout Phoenix Blog. Here you'll find blog posts related to stone, tile, and wood floors that we've restored. See the amazing transformations with the included before and after pictures. Feel free to share and leave your comments.
Published June 21, 2016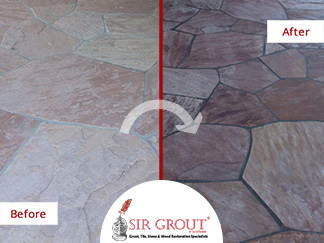 Flagstone Patio Gets Revamped with a Stone Sealing Service in Scottsdale, Arizona
Climate is an important factor to consider when protecting and maintaining any exposed stone surface. This fact is most relevant for places that have extreme weather conditions, such as Scottsdale, Arizona, where the temperature there goes over 80°F.
READ MORE