Welcome to the outdoors category for the Sir Grout Phoenix Blog. Here you'll find blog posts related to outdoor areas with stone, tile, and wood surfaces that we've restored. See the amazing transformations with the included before and after pictures. Feel free to share and leave your comments.
Published October 29, 2021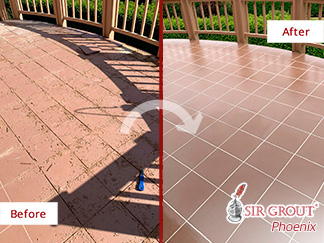 Scottsdale Hard Surface Restoration Services: Giving a Damaged Outdoor Floor an Awe-Inspiring Renovation
A couple from Scottsdale enjoyed spending peaceful evenings in their terrace. Those days hold precious memories for them, but unfortunately, as time passed, the floor in the outdoor area suffered heavy damages.
READ MORE