Our Tile and Grout Cleaners Restored the Condition of This Deteriorated Shower in Scottsdale, AZ
January 06, 2023
Our latest customers were a newly married couple who had recently returned home from their honeymoon. They were eager to make some improvements to their home, particularly to the shower which was in desperate need of expert attention. The couple had noticed that the shower was filled with mold, mildew, and soap scum and that there was missing grout and cracked expansion joints. They decided to do some research online to find a solution to their problem.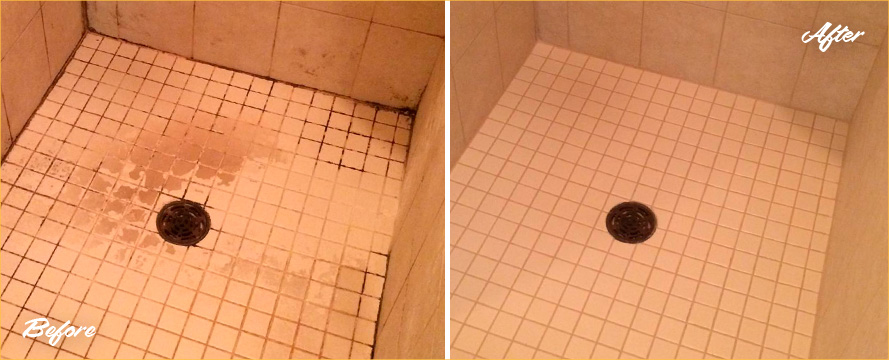 That's when they discovered Sir Grout Phoenix and visited our
picture gallery
. They also read some of our blog posts and were impressed by what they saw. The couple called us the following day and we were happy to help.
A few days later, our expert
tile and grout cleaners in Scottsdale, AZ
, visited the couple's home for an in-home inspection. After examining the shower, our experts determined that traditional cleaning methods would not be sufficient to solve the issue. The grout lines on the floor and walls were completely full of dirt, and the caulking needed to be replaced as it had deteriorated. We offered the couple a multi-step tile and grout cleaning procedure, which they happily accepted.
We returned the next day with all of the necessary tools to complete the restoration. The first step was to clean the shower with bio-safe cleaners to remove the build-up of soap. The floor and walls were extensively cleaned using bio-safe cleaners to eliminate any sign of grime, and the most difficult-to-reach areas were steam cleaned. When we were finished, the shower was spotless. Before sealing the shower's grout lines, our team worked on the caulking around the joints.
Regular cleaning will not be successful when grout or caulking is in bad shape. As a result, many homeowners find this chore difficult and time-consuming, and it quickly becomes frustrating. Sir Grout Phoenix, on the other hand, has the skills and knowledge to handle any problem with these susceptible components. We meticulously worked on the whole floor, re-caulking the joints around the seams. The sealing process was the only step missing to complete the project.
To finish the job, our crew dried the surfaces, and applied our penetrating grout sealer ColorSeal to the shower grout lines. Our sealing method is the best long-term solution for keeping clean grout in the busiest areas of a home. It contains hardening chemicals to help reduce grout erosion and offers complete protection for your hard surfaces.
Having your grout professionally sealed is an important step in maintaining the cleanliness and longevity of your tiles. Grout is a porous material that is susceptible to staining and deterioration, especially in high-traffic areas like showers. Without proper protection, grout can quickly become discolored and weakened, leading to costly repairs down the line. Professional grout sealing helps to prevent these problems by creating a barrier that resists stains, moisture, and wear. It also makes the surface easier to clean and helps to preserve the overall appearance of your tiles. We were excited to show the couple the results of the restoration, which we completed in just one day.
The couple was amazed by the results of our work. They were now able to enjoy their showers because every area of the shower was clean. We gave them a couple of recommendations on how to make cleaning more effective in the long term. To keep the shower clean without harming the grout and tiles, we recommended using pH-neutral, soap-free cleaners like
Sir Grout's Natural Hard Surface Cleaner
.
Showers are constantly subjected to wear and tear due to their interaction with water, and the use of soap-based cleaning solutions only increases the damage. Our soap-free detergent effectively removes dirt, grime, and soap scum while still leaving the surface clean. To make the cleaning process even smoother, we recommend using a squeegee, towel, or terry cloth rag instead of scraping the tiles. Additionally, keeping the area well-ventilated is an easy way to prevent mold and mildew growth.
Sir Grout Phoenix offers a team of professionals who are ready to provide the best tile and grout cleaning services for your home's hard surfaces. Whether you are dealing with dirty grout, soap scum, mold, mildew, or cracked tiles, we have the expertise and equipment to restore your shower or other hard surfaces to their former glory. Don't hesitate to contact us to schedule an in-home inspection and receive a personalized solution for your needs. Trust us to provide top-quality services that will leave you amazed by the transformation of your home. Call us at
(480) 268-3257
or click the "Schedule a Free Quote" button on this page to schedule a free consultation today. If you want to keep up with our latest news and promotions, subscribe to our
newsletter
.